Our Veterinarians
The Sandwich Veterinary Hospital team of skilled veterinarians welcomes you to our practice. Proudly serving the Sandwich area. At Sandwich Veterinary Hospital, it is our daily privilege to provide quality vet care to your cherished pet, with compassion and competence. We hope to ensure a positive impact on our patients, pet owners and the local community.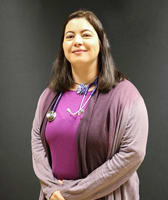 Dr. Marianne Krumdick, MDVM
Dr. Marianne Krumdick went to veterinary school at the University College Dublin in Ireland (for one year) and then the University of Illinois at Champaign-Urbana. She graduated in 2006 and began working at Sandwich Veterinary Hospital that year. 
Dr. Krumdick (aka Dr. K) has two dogs, Frieda and Marley, two cats, Jake Finnigan and Puddy and a 19 year old ball python, Arnie. In her free time, she enjoys doing small projects on her house and spending time with friends and family. She is also a Captain in the US Army Reserves and was deployed to Kuwait in 2014. She is part of a veterinary detachment located in Ft. Sheridan, IL. Dr. K's veterinary interests include surgery and promoting excellent preventative care year round.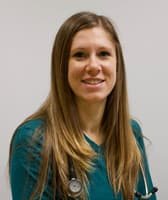 Dr. Heidi Pulito, DVM
Dr. Heidi Pulito grew up in a small town in Illinois called South Wilmington. She earned her bachelors degree in Biology at the University of Saint Francis in Joliet and received her veterinary degree from the University of Illinois in 2011. Dr. Pulito (previously, Dr. Dinelli) met her husband here in Sandwich and was married in 2014. They enjoy caring for their little "chiweenie" named Eve.
Her special interests include dentistry, fear free practices, and geriatric care. She also currently enjoys serving a 3-year term on the Board of Directors for the Illinois Veterinary Medical Association (ISVMA), where she works to help promote and protect the veterinary profession. In her free time, she enjoys running, traveling, and hosting women's bible studies in her home.
Dr. Kate St. John, DVM
Dr. Kate. St. John is a graduate of the University of Illinois where she received both her Bachelor's degree in Animal Sciences and her veterinary degree. She is originally a native of Kendall County and was very involved in 4-H as a youth. Dr. St. John is excited to return to her hometown area and enjoys the variety, challenges, and rewards in practicing mixed animal medicine.
In her free time Dr. St. John enjoys running, hiking, gardening, helping on her family's farm, and anything else that gets her outdoors in the sun.
She enjoys community outreach, is a huge movie buff, and enjoys taking naps with her ridiculously fluffy cat Two.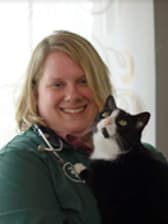 Dr. Jessica Graves, MS DVM
Jessica Graves MS DVM grew up in an active duty Air Force family and has lived most of her life in Illinois. After graduating from Greenville College with her BS in Biology and Chemistry she attended the University of Illinois College of Veterinary Medicine where she obtained a Masters degree in Molecular Parasitology and her Doctorate of Veterinary Medicine.
She has been a small animal practitioner in the Chicago suburbs. Her interests lie with internal medicine, parasitology and nutrition. She is dedicated to helping all her patients live long and happy lives.